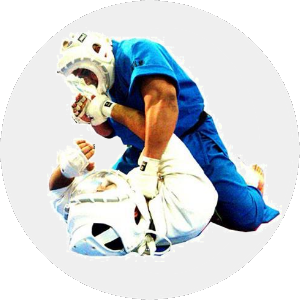 SIGN UP (Spots Limited! Hurry!)
Kūdō (空道, Kūdō) is a Japanese hybrid martial art. It is a full-contact combat sport that aims to achieve both safety and practicality, a style of mixed martial arts practiced with headgear and gloves. It features stand-up striking, with throwing and grappling techniques being also allowed in the competition, including restraint, locks, and chokeholds.

Kūdō is a budo martial art that originated in the Daido Juku school. Daido Juku is an organization founded by Azuma Takashi in 1981.
The Kudo is found in more than 100 locations in Japan and is practiced in more than 50 countries around the world. Although it is a martial art created by the Japanese, Russia currently has the largest number of Kudo athletes, eclipsing the number of Japanese practitioners.
You'll learn the following:
Ukemi – Falling Techniques

Backward Roll or Ushiro Ukemi

Forward Roll or Zenpo Ukemi

jab, back-hand, straight, hook, uppercut, elbow, kicks, nage, head-butt
…and much more!
To pre-register online, or leave a message on our voice mail: 734-447-3000
Class size is limited; please pre-register as early as possible to reserve a spot
Questions about the class? Not sure if this is right for you? Our teachers will be happy to help!